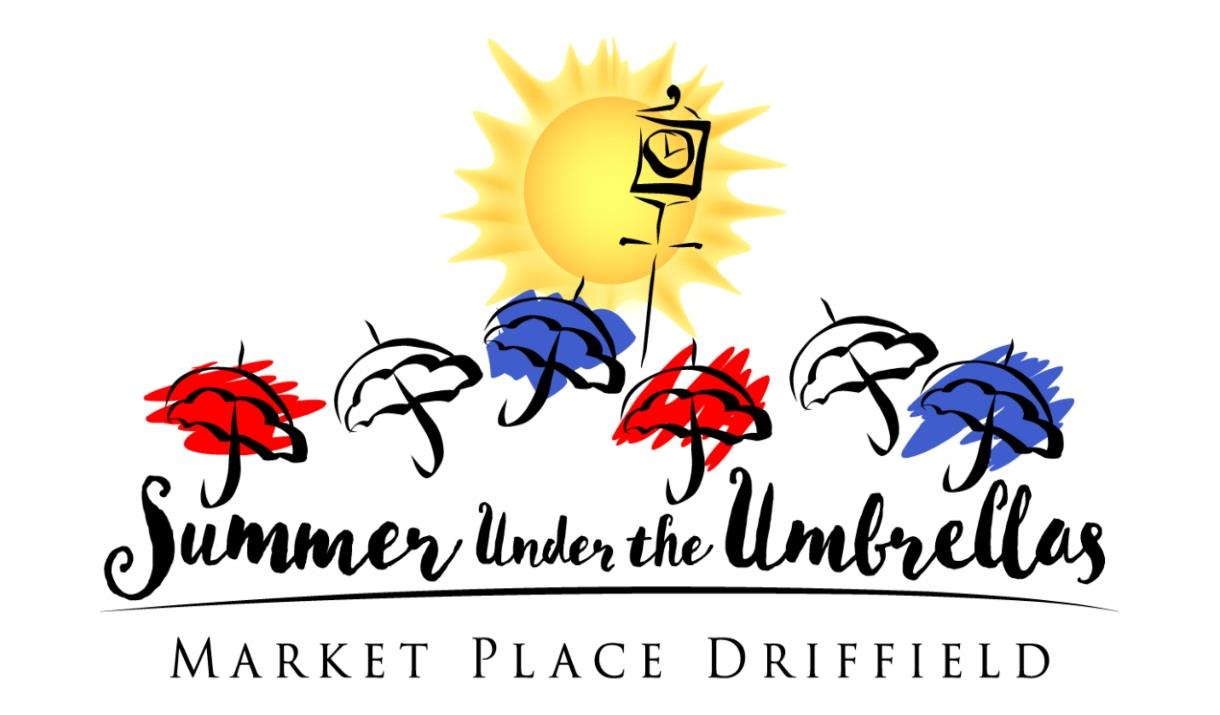 About
Summer Under the Umbrellas.
Umbrella Plaza looks set to be the place to be in Driffield this summer – with a programme of events starting on Friday 10th June 2022.
As part of Driffield Town Councils ongoing efforts to provide a safe and friendly venue for residents and boost visitors to the town a series of events to suit all ages and all interests has been scheduled – Summer Under the Umbrellas.
Every Friday from June 10th to September between 3.30pm and 5pm there will be a FREE Creation Station workshop offering a whole host of opportunities for young people to learn new skills and try crafts.
And on Saturday afternoons there will be a variety of activities for all ages including old time music hall, interactive plays and trails through the town.
All this in addition to the return of musical entertainment including buskers, choirs and dance.
Funding for the activities have come from the ERYC Do It for East Yorkshire Community Grant – supported by Driffield Town Council.
And hopes are high that even more people will visit the Plaza to enjoy all it has to offer this year.
"Our extensive consultation on the Commonplace engagement tool clearly highlighted that residents wanted an improvement in the late afternoon/ early evening offer in the town," said Claire Binnington Clerk to Driffield Town Council.
"Fiona Turner, our External Funding Officer, has secured a grant to specifically provide activities that encourage people into the town at this time on Fridays and Saturdays, we hope that all local eateries will see this an excellent opportunity to attract more customers for meals from 5.00pm.
" Any special offers businesses wish to put on will be fully promoted by the Town Council as part of their Summer Under Umbrellas Scheme. We hope that businesses will embrace our efforts to further improve their footfall, the basis on which this project is based'.
Last summer the Plaza hosted a wide variety of musical talents who came to busk in the town and who added a musical flavour to the town centre.
And this year even more is being offered to Driffield residents and visitors to the town with the opportunity for musicians to busk on the Plaza with the addition to a series of craft sessions and theatrical entertainment being offered to Friday and Saturday afternoons.
A full programme of events is attached and will be promoted on the Plaza, Driffield Town Council website and via the Driffield and Wolds Weekly, Great Driffield Radio and social media. If the weather is bad the Friday events will relocate to Cass Hall.
"Following extensive consultation with Umbrella Plaza users and people who took part in additional surveys we have drawn up a series of events and activities that will suit all ages and interests," said Jill Baldwin, Driffield Town Centre Officer.
"We are also using the Plaza to promote the amazing variety of eateries we have in the town and hope that it is as popular as it was last year.
"We appeal to all our eateries to support this programme events by providing a Friday or Saturday teatime special offer which we will promote everything that is on offer.
"It is part of our ongoing effort to support local businesses and improve the teatime offer for Driffield. I do hope people will take part."
For further information please contact Jill Baldwin at tco@driffieldtowncouncil.gov.uk
GET CRAFTING THIS SUMMER!
Creative Fun this Summer with The Creation Station.
Join the fun every Friday 3.30pm – 4.30pm with a variety of FREE creative activities for the kiddies!
10/6/22 – Clay Creations and Playdoh Fun. What can you create?
17/6/22 – Key rings and key chains – Perfect for Father's Day!
24/6/22 – Cress Head Characters – Create your own Character and watch its cress hair grow.
1/7/22- Festival masks and Crowns – Get ready for the summer festivals.
8/7/22 – Design your own Eco-Friendly Canvas Bag
15/7/22 – Decorate a memo holder or pen pot! Perfect for Teacher gifts!
22/7/22 – Paint a plant pot fun! 29/7/22 – Decorate your own frisbee for a summer of fun!
5/8/22 – Summer Slime Fun – Mix your own Slime from our tested recipe! (Over 4's Only) Play doh will be available for younger children.
12/8/22 – Create your own Windsock and Chimes for your garden!
19/8/22 – Create your own Dream catcher for your rooms.
26/8/22 – Design your own Pencil case ready for the new school year! If wet sessions will take place at Cass Hall, King St, Driffield.
Book Tickets
Tripadvisor
Map & Directions